Soap Roses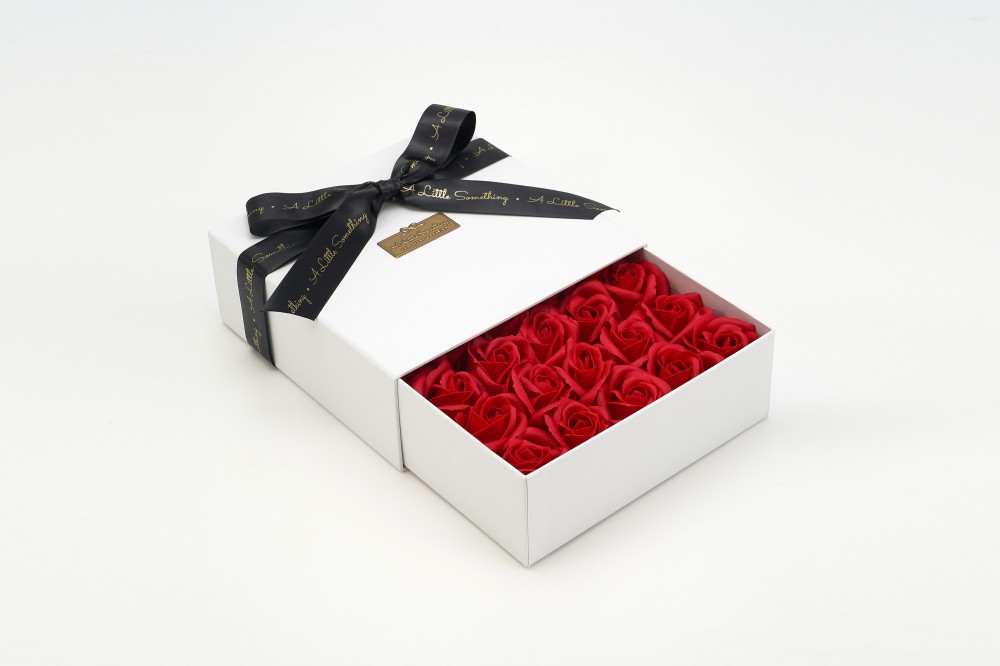 Unlock a world of delightful surprises with our immaculate, white drawer-style boxes, concealing within them a treasure trove of 25 beautiful and heavenly scented soap roses. Each rose is carefully crafted to perfection, exuding an enchanting fragrance that will captivate your senses. Whether you're looking to adorn your bathroom with a stunning display or indulge in a relaxing and fragrant bathing experience, our soap roses are versatile companions that offer endless possibilities.

For those seeking a moment of tranquillity and rejuvenation, simply add one or two soap roses to a warm bath. As you immerse yourself in the soothing water, witness the flowers gracefully dissolve before your eyes, releasing their essence and transforming your bathing ritual into a sensory oasis. Allow the coloured water to embrace you, and let the subtle aroma envelop your senses, leaving you feeling utterly refreshed and revitalized. Not only will you emerge from the bath with a renewed sense of serenity, but your skin will also be left feeling incredibly soft, silky, and exquisitely scented.

Our soap roses are a treat for yourself, a chance to indulge in self-care and create moments of pure bliss. They also make for a truly beautiful gift, perfect for any occasion that warrants a touch of elegance and thoughtfulness. Whether it's a birthday, anniversary, or simply a gesture to show someone you care, our soap roses are a symbol of affection and a source of joy. Experience the sheer delight and versatility of our soap roses today and discover why they are cherished as a personal indulgence and a remarkable gift for all occasions.
ROSE COLOUR
SPECIFICATION
Contents: 25 Individual roses

Box Dimensions: Width: 17.5cm, Depth: 17.5cm, Height: 6.5cm
PRODUCT CARE
Simply take a rose from the box and remove and dispose of the green plastic stem.

Peel off the petals and drop them into a warm bath.

After enjoying your soap rose bath, empty the water and thoroughly rinse the bath to avoid stains.
Add a personalised message - this will be sent as a gift card to accompany your product.